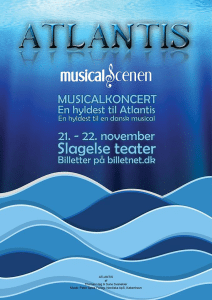 Musicalscenen præsenterer – ligesom også i 2014 – musicalen Atlantis, som var en enorm succes sidste år på Slagelse Teater. Nu laver Musicalscenen en anderledes opsætning af stykket, der hylder et af de absolut bedste stykker, der er lavet som musical i Danmark. De viser deres opsætning ved to eksklusive visninger hhv. d. 21. og 22. november.
Til musicalkoncerten er det naturligvis muligt at genhøre nogle af de kendte sange fra Atlantis, som eksempelvis "Den feber kaldes kærlighed" eller "Hil Atlantis", når det velspillende orkester og kor giver prøve på deres kæmpemæssige talent.
Nogle af ansigterne i musicalen vil man have set før, eftersom flere af skuespillerne har haft roller i andre af Musicalscenens opsætninger; herunder Drengene fra Skt. Petri.
Du kan læse meget mere om Atlantis på Musicalscenens hjemmeside, hvor det ligeledes er muligt at rekvirere billetter til den eksklusive forestilling.