Den 18. februar får Slagelse Musikhus besøg af det eneste Big Band i Danmark, der tør være originale – sådan formulerer de i hvert fald selv deres beskrivelse. Og der er ingen tvivl om, at de er originale.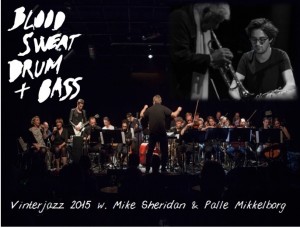 Med et orkester bestående af i alt 27 musikanter er det en stor forsamling, hvor man har kombineret klassiske instrumenter med moderne instrumenter, heriblandt 3 trommeslagere, 2 bassister og 2 synthesizers samt computerproduceret materiale; herudover er der to sangere til at krydre hele oplevelsen.
Orkesterets seneste udgivelse, On the Road to Damascus, fra 2012 har et mellemøstligt skær, og er inspireret af komponistens egen tur i disse egne. Hele albummet er fyldt med inspiration fra mellemøstlig musik, i en variation som nok aldrig er set lignende før.
Skal man beskrive Blood Sweat Drum + Bass' som en enkelt genre, vil man komme til kort, der er nemlig ikke en egentlig genrebetegnelse for den progressive form for musik, som de eksperimenterer med. Der er elementer fra electronica, heavy metal, rock, pop og ganske almindelig jazz. Man har taget det bedste fra alle verdener og skabt sit eget.
Egentligt var orkesteret i starten blot ment som en enkeltkoncertoplevelse til festugen i Århus i 2001 – det skulle dog vise sig, at orkesteret var så stor en succes, at man blot et år senere kunne opleve dem som et etableret orkester; sådan har det set ud lige siden.
Blood Sweat Drums + Bass kan opleves den 18. februar i Slagelse Musikhus. Billetter kan rekvireres igennem Slagelse-musikhus.dk eller via billetnet.dk.
/Theis Schønning