Der er for mange, der glemmer at have gyldig billet, når de kører med bussen på Sjælland. Selvom vi fortsat går ind ad midterdøren i bussen, skal man selvfølgelig stadig huske billetten. For billetindtægterne er en forudsætning for, at vi kan opretholde god kollektiv transport, oplyser Movia.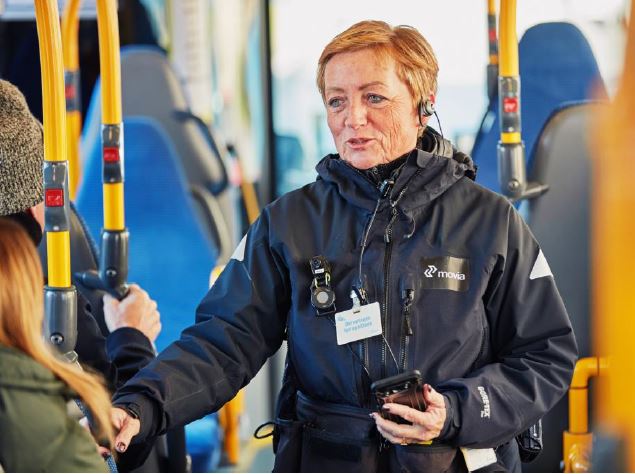 Der er fortsat for mange passagerer, der glemmer at betale for busturen, efter vi på grund af corona-situationen går ind ad midterdøren og ikke kommer forbi chaufføren. Movia startede derfor i begyndelsen af maj en kampagne for at minde alle om, at man skal huske at købe billet, før man stiger på bussen. Samtidig arbejder billetkontrollen på fuld tryk, efter en periode hvor nogle billetkontrollører også arbejdede som stoppestedsvagter, ligesom andre medarbejdere fra Movia, for at hjælpe passagerne godt på vej med de nye regler i den kollektive transport i forbindelse med coronakrisen.
"Vi kan se, at det høje kontroltryk og vores informationskampagne har fået flere til at huske billetten, men vi er ikke i mål. Der er fortsat dobbelt så mange, som normalt, der glemmer at købe billet, når passagerne ikke skal ind ad fordøren og forbi chaufføren. Billetindtægterne er afgørende for, at vi kan blive ved med at have god kollektiv transport, og selvom vi ikke har åbnet fordøren, skal man som kunde huske sin billet alligevel", siger kommunikationsdirektør i Movia Camilla Struckmann og henviser til, at Movia i forvejen har mistet et meget stort beløb på grund markant færre passagerer i foråret i år som følge af coronakrisen. Dermed mangler de sædvanlige billetindtægter, der er med til at betale for bustrafikken.
Kampagnen for at huske at købe billet til bussen på Sjælland kører frem til udgangen af juni.
Movias billetkontrol følger sundhedsmyndighedernes anbefalinger for at mindske risiko for smittespredning. Det indebærer blandt andet, at billetkontrollen foregår med god afstand – i strakt arm, ligesom enhver form for fysisk kontakt med kundens billet, mobil eller rejsekort undgås. Passageren skal derfor også selv holde sit ID kort frem, så kontrolløren ikke skal røre ved det. Alle kontrollører har håndsprit med.
En kontrolafgift koster 750 kr. En sms-billet til 2 zoner koster 24 kr., og bruger man rejsekort til at betale for rejsen koster 2 zoner 16 kr., 3 zoner koster 21 kr.