Lørdag den 13. juni klokken 13 slår Slagelse Kunstforening dørene op i Det Røde Tårn, og viser denne gang en udstilling af to kunstnere i samarbejde: fotografen Kresten Fjord og maleren og grafikeren Poul Janus Ipsen.
De bor begge på Bogø, og i 2018 fandt de sammen i et skønt projekt, der bestod i at fotografen skulle skabe en kalender, der skulle sælges til fordel for kampen mod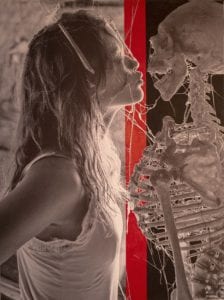 prostatakræft. Han valgte at lave en mande-pinup-kalender med modeller fra sit nærområde. Poul Janus Ipsen var en af de nøgne modeller. Nu er de to gået sammen i et projekt de kalder 'Kvinder i edderkoppespind'.
Fotografen har fået en række kvinder til at gå ind i rum hvor de overhovedet ikke havde lyst til at færdes: gamle kældre og støvede loftsrum, fyldt med edderkoppespind og måske endda levende edderkopper. Dér har han så fotograferet deres angst, forskrækkelse, afsky, når de pludselig har følt sig spærret inde og omsluttet af edderkoppespind. Det siger sig selv, at de følelser kan kun opstå spontant i situationen, så fotografierne er et unikt billede af nogle instinkter, der til daglig er godt gemt under civilisationens fernis.
Derefter har maleren overtaget billederne, og med sin sikre og moderne streg har han løftet fotografierne et nyt og overraskende sted hen. Med små tilføjelser har han fremhævet visse detaljer og sløret andre, understreget det gys der ligger i situationen. Det fremgår tydeligt, at billedernes tema ikke ligger fjernt fra den mildt surrealistiske stil, som hans maleri og grafik sædvanligvis er præget af. Morsomt er det også at iagttage, hvordan de to kunstnere ubesværet taler samme sprog hen over den aldersforskel på 30 år, som ligger mellem dem.
Multikunstneren Finn Bygballe holder åbningstalen, og Slagelse Kunstforening er vært ved et glas vin eller vand. Af forsigtighedshensyn vil der ved denne fernisering ikke blive serveret noget spiseligt – de havde ellers glædet sig til at servere specialdesignede edderkoppelagkager…
Efter ferniseringen er udstillingen åben klokken 13-17 fredag-lørdag-søndag til og med søndag den 5. Juli. Der er gratis adgang og alle er velkomne.