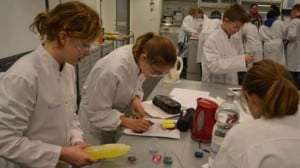 Slagelse Kommune har længe været med helt fremme, når det gælder udviklingen af nye science-talenter. Antvorskov Skole har bl.a. været repræsenteret i New York med deres udvikling af intelligente lego-løsninger, ligesom andre skoler også har repræsenteret kommunen på fornemmeste vis.
Og som led i en strategi om fortsat dominans på særligt science-området, har Slagelse Kommune indgået et samarbejde med ScienceTalentGenius Sorø. Samarbejdet er et projekt støttet af Egmont Fonden og ScienceTalenter, som skal hjælpe højtbegavede børn til at blive endnu dygtigere.
I Slagelse Kommune skal der udvælges de 8 mest begavede elever på området, som over to år skal være med på camps, der skal udfordre dem på det faglige og det sociale plan. Centerchefen for uddannelser i Slagelse Kommune, Per Kensø, udtaler:
"Det er en stor mulighed og vi er glade for, at kunne tilbyde eleverne et projekt som dette. Projektet er fint i tråd med vores skolepolitik og målene i skolereformen, hvor alle elever skal udfordres, og der skal være flere af de allerdygtigste. Vi har i Slagelse Kommune også en talentstrategi, der skal hjælpe os til at identificere højtbegavede elever, så vi lettere kan udfordre dem mod at udleve deres fulde potentiale".
Ideen med disse camps, der skal holdes over de næste to år, er også at give deltagerne en social udfordring. De allermest begavede kan udvise sociale adfærdsvanskeligheder, hvilket der ligeledes arbejdes på ved disse talentudviklings-tiltag.